Mccarthy Homes is your Gold Coast house builder
McCarthy Homes is a Gold Coast house builder with over 20 years of experience in delivering incredible properties.
The McCarthy Homes Difference
Home Builders Gold Coast
No two dream homes look quite the same. As a team that's dedicated to crafting the perfect property, we begin each project by learning more about the lifestyle you are envisioning.
Our simple process is easy to navigate and ensures you receive a tailored experience with the luxury features your home deserves. When you work with our Gold Coast home building team, we'll guide you through the entire project, delivering incredible results and a custom home you'll love for decades to come.
Your home is more than just a building. It's a place of comfort and familiarity, a place where you can gather friends and family to share, celebrate and grow. A home is an extension of your life, and the McCarthy team is honoured to be a part of that journey.
Our team are some of the Gold Coast's most experienced custom home builders. There's more than 20 years of expertise in each of our projects. You can trust us to provide a seamless building experience and deliver a custom home that's as unique as you, your family and your vision for life.
MAKE AN ENQUIRY
At McCarthy Homes, we focus on crafting properties that feature incredible details. Our inclusion packages are tailored to suit your family and lifestyle. Discover our Sandstone, Granite and Quartz collections online, and explore the premium features you'll find in your McCarthy home.
FIND OUT MORE
The luxury home you've been dreaming of is just around the corner. If you're ready to begin designing, take a moment to review our current promotions. Each one is packed with incredible value that's intended to elevate your new home and provide a building experience unlike any other.
DISCOVER NOW
McCarthy Homes is a home builder with more than 20 years' experience. We work on projects throughout the Gold Coast and the Greater Brisbane region.
Whether you are building your beachfront dream in Burleigh, living on the canals in Hope Island, or headed upriver to Nerang, McCarthy Homes can craft a lifestyle you'll love.
Our custom home building services are available across the Gold Coast's most popular lifestyle regions. You can explore our complete range of build areas below, or contact us to discuss your location and find out how we can support your dream home build.
Build Areas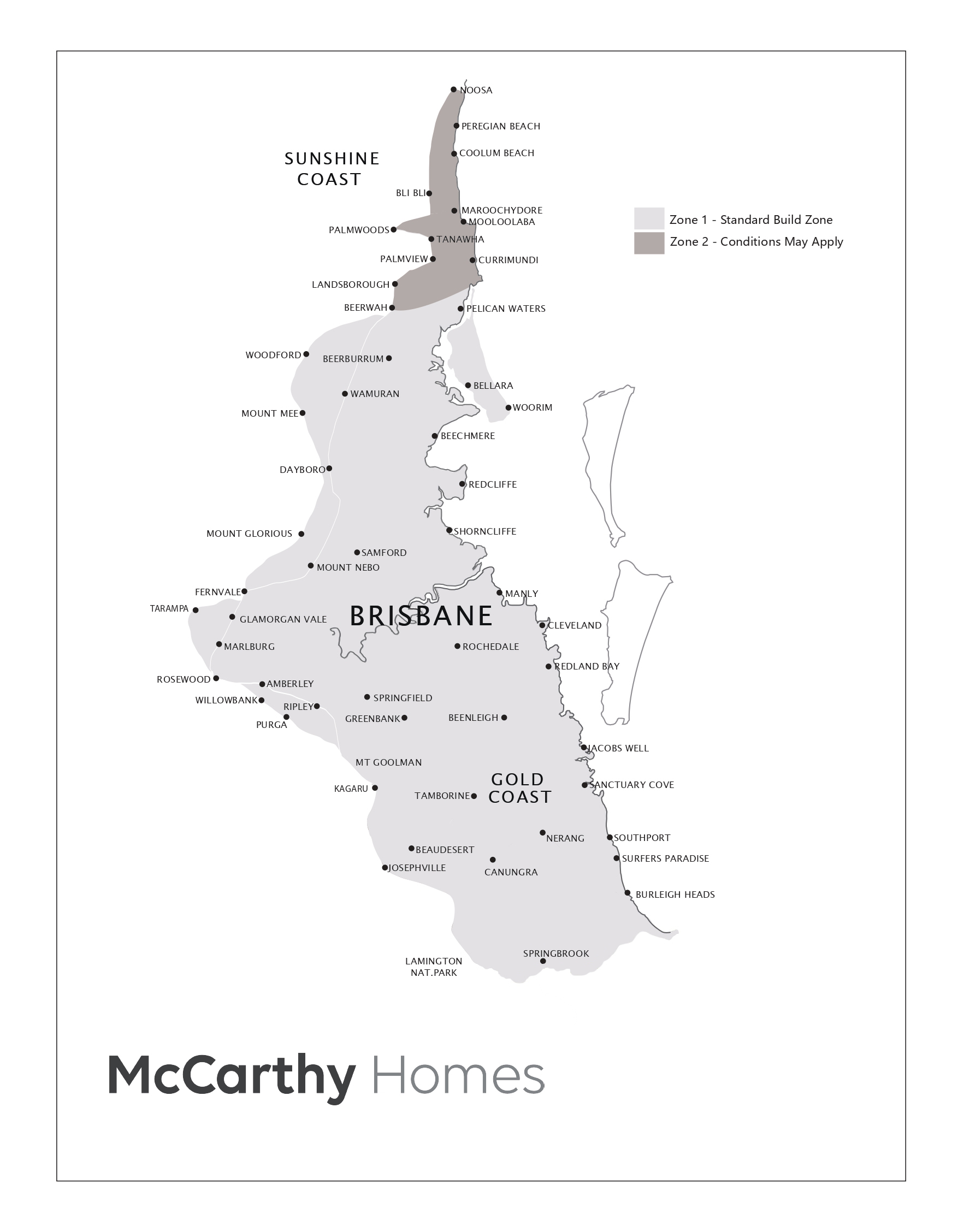 Visit a McCarthy Display Home
Building a home is one of the biggest investments you will ever make. When you want to get each detail perfect, our display homes contain the inspiration you've been searching for.
McCarthy Homes operates a selection of display homes across South East Queensland. Our displays put the very best of our designs on show, offering you a chance to see, feel and experience the McCarthy difference for yourself.
If you are ready to build, searching for inspiration, or want to discuss your project, take a virtual tour or visit a display home and explore the lifestyles we have on offer.
Display Homes
Knock Down Rebuild on the Gold Coast
The Gold Coast is one of Australia's hottest property markets. Finding the perfect location isn't always easy, but a knock down rebuild project means you can turn any block into your dream house.
McCarthy Homes provides knock down rebuild services that can make the most of every location. The kids can stay in their schools, you can stay close to friends and family, and McCarthy can build a new home that supports the next stage of your life.
Knock down rebuild projects are a fantastic way to unlock the potential in your existing block. For families that are growing, changing or ready to upgrade, McCarthy Homes can deliver the experience you're searching for.
The McCarthy Homes Selection Centre
McCarthy Homes collaborates with each of our clients to deliver incredible homes. One of the most important parts of the process is selecting the inclusions, finishes and details that will turn your new house into a home.
At your Selections Centre appointment, you'll have the chance to experience our fixtures and fittings in person. The Selections Centre is a showcase of our style, and it's your opportunity to personalise your custom home project.
During your appointment, you'll receive unlimited access to our design experts. Whether you have every detail planned or need help making selections, our design team can support you in creating stunning spaces your family will love.
Rediscover inspiration with this selection of our past and present displays and stunning custom home projects.