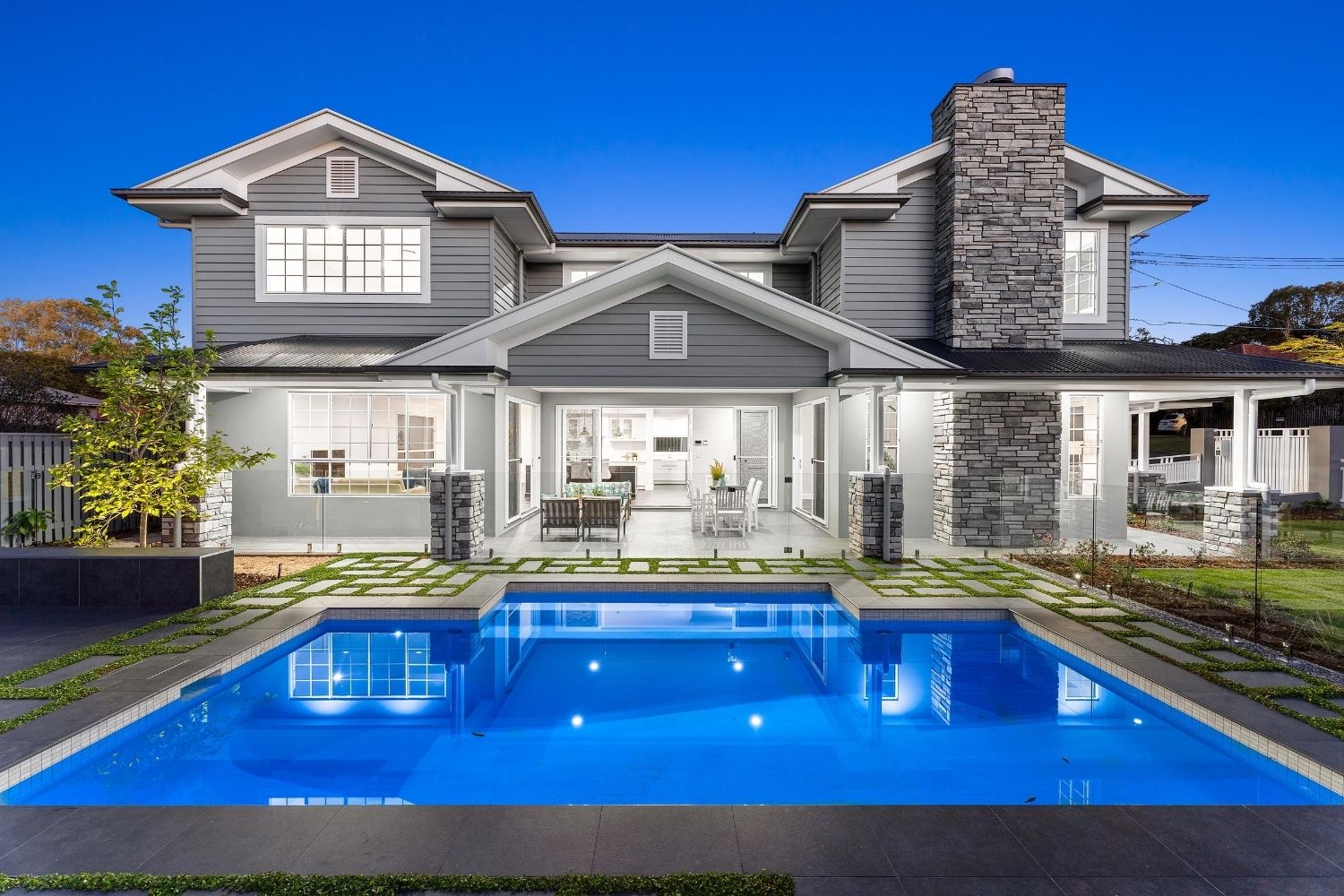 If you've found yourself on this page then it might be because you're looking for alternatives to buying new land to get your new home. With the real estate market being so competitive right now it can be difficult to lock down that dream home you've been desiring. 
Someone might have mentioned knock down rebuilds or knock down new builds as another option. Today we'll explain what a knock down rebuild is and how it could be the solution to getting your brand new dream home without having to move your entire life. 
What Does Knock Down Rebuild mean?
Knock Down Rebuild is a common term in housing & building, it means to knock down the house on your land and rebuild a brand new one. Perfect for people who love their location but have an outdated house, or for families who are settled into their area but have outgrown the capacity of their home. 
Deciding to demolish not only raises the value of your new property and saves you from paying stamp duty and selling costs, it also gives you the added benefit of tailoring a new home suited to your block and your lifestyle.
If you've got the perfect block of land but need the house to match then a McCarthy knock down rebuild can breathe new life into your block with a brand new custom-designed home.
Rebuild or Renovate? 
Depending on how tailored you want your home to be to your lifestyle, sometimes a small renovation will be enough, while for others a comprehensive rebuild gives you precisely what you want in a home.

Advantages of a Knock Down Rebuild
More and more people are choosing to knock down and rebuild their homes because the cost can work out cheaper than renovation. In terms of dollars per square metre, Knock Down New Build's are frequently a more cost-effective option. 
With a knock down rebuild project you can walk into a brand new home without going through the inconvenience of selling or the risks of renovating. Especially in competitive areas like Brisbane and the Gold Coast, a knock down rebuild can be the perfect solution.
Knock Down Rebuilds deliver a home that matches your desired lifestyle perfectly

The homeowner controls the project from start to finish without having to accommodate previous design features that no longer work for you

Your builder will know every detail of the construction process without having to make educated guesses about the quality or soundness of the original builder's work

Budgeting can be managed thoroughly as every element of the project begins with the homeowner

Depending on the project it can also sometimes be faster to rebuild than to remodel an old home
McCarthy Homes are Knock Down Rebuild Specialists in Brisbane & Gold Coast
At McCarthy Homes we take pride in bringing a brand new home to our customers without them having to leave their existing land. Our team is known for providing one of the leading knock down rebuild services in Queensland; from start to finish you can rely on McCarthy Homes.
Especially in highly populated areas you can trust that your McCarthy Homes building site will operate with the highest standards in respect for your neighbours and community. Your build team will leave a clean site and implement their waste reduction policy for all home constructions. 
"It has been such a pleasant surprise to have McCarthy Homes build in my street. Your considerate policies to neighbours regarding no music, a clean site and general all-round courtesy have made what can't help be a noisy operation as minimal an impact on the surroundings as possible. Your builders represent you at all times in a fantastic manner and demonstrate to me you are a company of character. I wouldn't hesitate in placing you at the top of the queue to build my house in part due to this responsible policy."
Simon Rowell, Wilson
What to look for in a builder who offers Knock Down Rebuilds
Unfortunately there are too many builders who will agree to a knock down rebuild without ever scoping the project or completing a site inspection. These steps are crucial to the proper planning of your project so that there aren't any nasty or expensive surprises when it's too late to turn back.
At McCarthy Homes we have years of experience with knock down rebuilds; working with homeowners throughout the entire project to present them with their dream home at the end.
We complete site inspections and project planning from the beginning to be sure that we can achieve your dream design on your existing block of land. As experts in the field for knock down rebuilds you can rest assured that our team will make the project smooth and hassle free to leave only the excitement of a new build in your mind. 
Whether your block is narrow, steep, on acreage or in town McCarthy will work with you to create your dream home right where you are so you don't have to lose your fantastic views, great suburb or perfect street. 
Knock Down Rebuild Steps To Replace Your Old Home With A Brand New One
Choose your dream home design from our huge range, you can even custom design your home depending on the conditions of the lot! Our team will then complete a site check to determine if the house design and build will work on your existing block of land.
Foundation works and Estimate of Cost. Once you are ready to get started we will organise the necessary site tests and present you with itemised site costs, available upgrades and a detailed siting showing how your dream home design will be positioned on your block.
Our customers can also currently take advantage of the McCarthy Homes Stay Right Where You Are Offer which includes a $20,000 Demo Allowance, 10.kw air conditioning system and True Core steel frame, all for the cost of $4999! 
Next you'll review the costs and builder's plans. We'll go through all of the associated costs with your knock down rebuild and show you the intended positioning of your new home on your block. 
After the contract is signed you can get creative and choose the colours, finishes and fixtures for your new homes from our huge selection of home décor options. Use the assistance of our consultants & take inspiration from our display homes to ensure you get the best look possible. 
Demolition, contracts and permits. McCarthy Homes will organise everything from demolition to rebuild so the build progresses smoothly. From electrical & lighting layouts to the building contract and your building permit.
Watch your dream home come to life. It'll start by pouring your concrete slab, then erecting the house frame before gaining 'lock-up' status and adding the interior and exterior finishes. McCarthy Homes will be with you every step of the way to advise on updates and answer any questions you may have.Handing over the keys to your brand new dream home. Together we'll reach the end goal of every McCarthy Knock Down Rebuild; to give you, the homeowner, your dream home exactly the way you want it and on your own land.
Knock Down Rebuild Before and After
At McCarthy Homes you can select your dream home from our stunning range of designs or create your own custom design with guidance from our builders.
The end result is a home with every luxury you could ask for, that suits your lifestyle and is located right where you want it.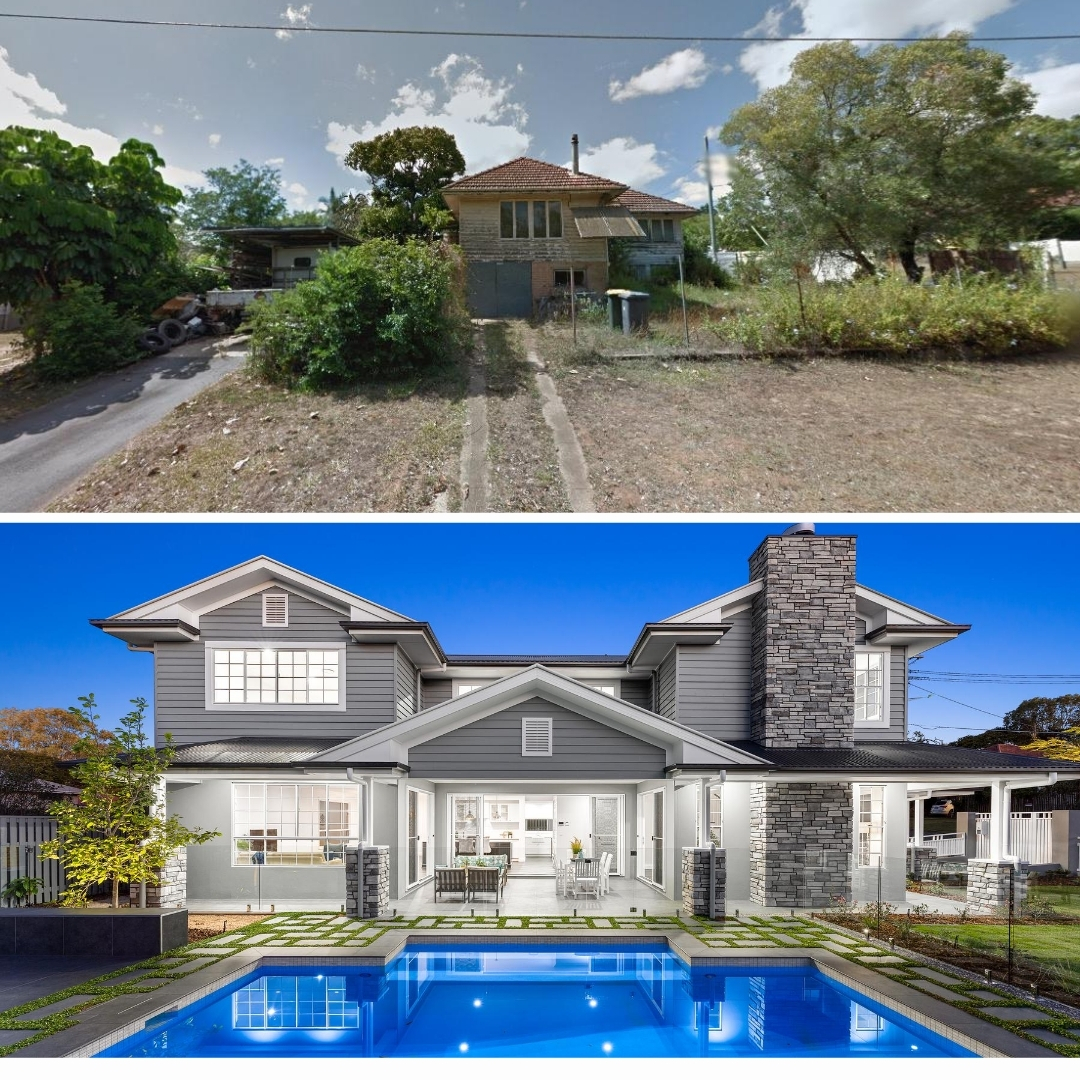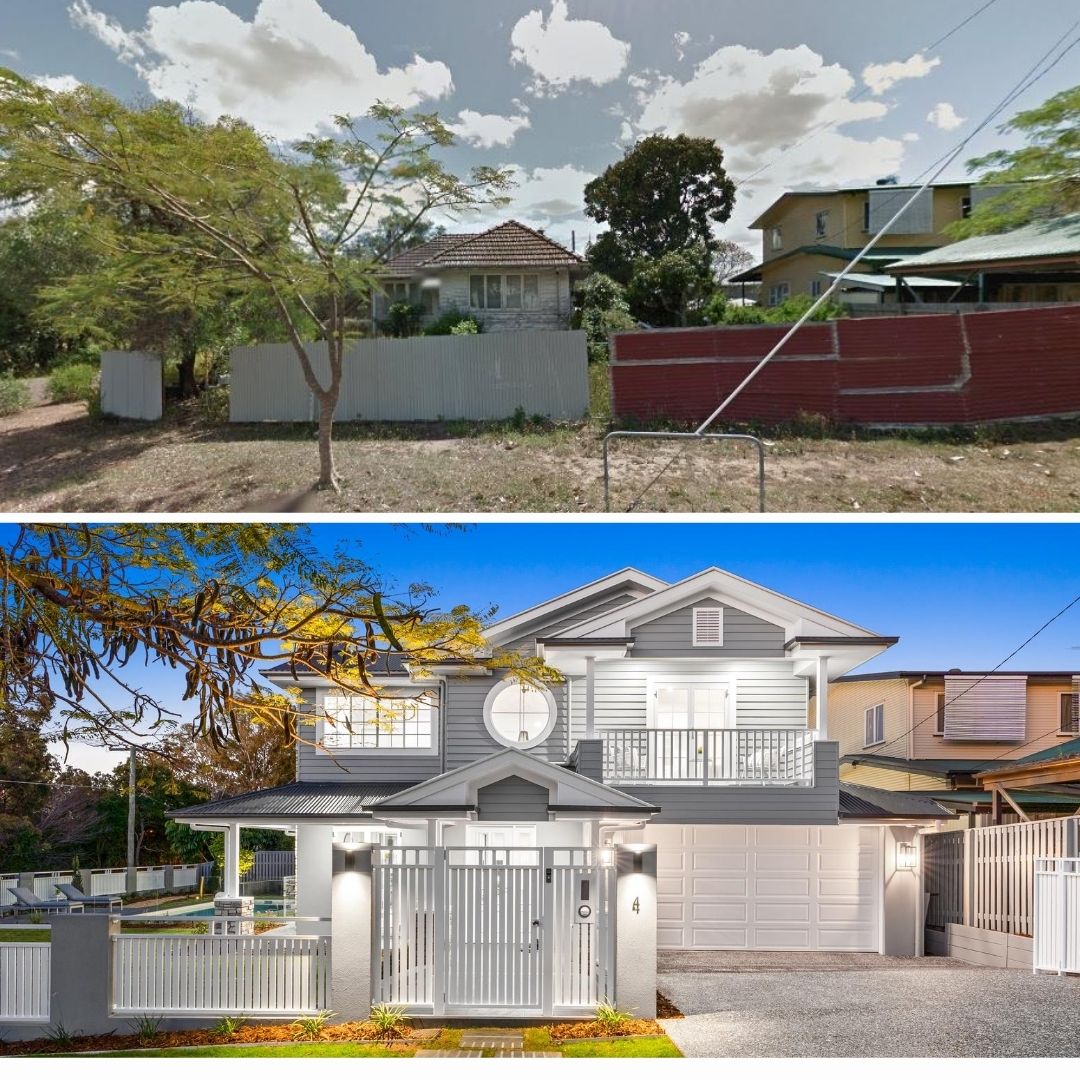 Knock Down and Rebuild Your New Dream Home With Confidence With McCarthy Homes.
From the Sunshine Coast to Ballina and anywhere in between, McCarthy Homes are the knock down rebuild specialists in Brisbane and the Gold Coast. 
Talk to us today about your knockdown rebuild home. You can contact us on (07) 3358 9704 or submit an enquiry online now to find out how McCarthy Homes can help you!