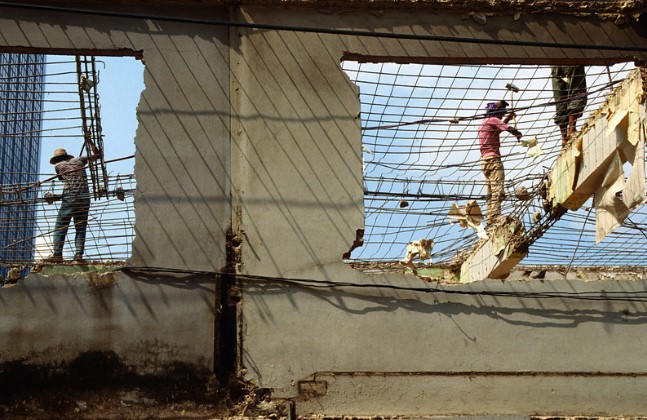 A knock down rebuild is a type of new home construction that involves demolishing an existing home and rebuilding a new one in its place. In most cases, the existing property is demolished completely (including the slab and underground utilities), giving you a blank slate for your new build. Families typically opt for a knock down rebuild due to one of two reasons:
You already love where you live

, but your home no longer suits your family's needs. If that's the case, a knock down rebuild gives you complete freedom to redesign your home without having to move to a new property.

Your dream property already has a house

built on the land. Some of Queensland's best properties aren't sold as vacant land. If you have your heart set on a particular block, but it already has a home or other structures on the land, a knock down rebuild can clear the way for your dream build.
How Much Does it Cost to Demolish a House?
It costs anywhere between $20,000 and $40,000 to demolish a house in Queensland. The cost of demolition depends on the size of the home and the property layout. Demolition is the only major "additional" cost of a knock down rebuild when compared to a new build on vacant land. While it may seem like a lot of money, the cost of demolition is easily offset by the money saved on moving, stamp duty and the cost of new land.
Demolition typically isn't included in the price of your knock down rebuild contract. Demolition is a highly skilled service, so most builders will ask you to coordinate the knock down process with an independent contractor. You'll need to discuss the demolition phase with your builder to see whether it's included in your contract or not. Your builder may also be able to refer you to a high quality demolition service they have worked with previously.
Factors that Affect the Cost of Demolition
The demolition process is an affordable way to clear your block of land and prepare it for new construction. The cost of demolition largely depends on the size of the home and the layout of the property. It can also be affected by:
Asbestos.

Asbestos was officially banned as a building material in 1990, but it's found in many homes from that era. Removing asbestos during demolition is a dangerous task that can only be performed by licensed professionals. This will add to the total cost of your demolition.

Site access.

Knocking down an existing house requires serious equipment. If your home has good site access (such as sealed roads and plenty of space to manoeuver heavy machinery), this will reduce the cost of demolition.

Underground utilities.

Demolition typically involves removing underground utility runs (including water, gas, sewerage, electricity and NBN). This process may attract additional fees from the utility provider.

Materials recycling.

Queensland has a growing market for recycled construction materials. Hardwood timber, roof tiles, bricks, doors, windows and other features can often be recycled, and the value of those materials may be deducted from the cost of your demolition. This is a great way to offset the expense and reduce the amount of waste generated by your project.
In some cases, you can significantly reduce the cost of demolition by having the home removed from the block. This option is usually only suitable for timber homes such as Queenslanders that are built on platform foundations.
How Much Does it Cost to Rebuild a Home?
There's no one-size-fits-all answer to this question. The cost of building a new home varies widely depending on your location, design, materials selections, floorplan, custom requirements and more. In general, rebuilding your home after demolition costs the same amount as building a new home on a vacant block.
Advantages of a Knock Down Rebuild
Building a new home is one of the most rewarding things you will ever do. While the process can be intensive, you'll end up with a home that supports your lifestyle perfectly. And, when you opt for a knock down rebuild, you also benefit from:
Location.

The biggest advantage of a knock down rebuild is that you get to stay in the location you love. There's no need to move away from family, friends, work and the kids' schools – you can build the lifestyle you want without moving an inch.

Price.

There's no question that a knock down rebuild is a serious investment of time and money. But, it's also a cost-effective way to build a home you'll love in exactly the right location. While there are additional costs (such as demolition), your knock down project can save tens of thousands on things like stamp duty, agents fees, moving costs and more.

Taxation.

Stamp duty, CGT and other tax obligations are some of the biggest costs associated with buying a new home. For example, if you were to purchase a house and land package in Queensland for $700,000,

you would pay $17,350

in stamp duty. However, you won't pay a cent in stamp duty if you choose to build a new home on your existing property. You can use this

stamp duty calculator

to estimate how much money a knock down rebuild could save your family.

Design flexibility.

A renovation project is a good way to update your home, but there are limits to what you can achieve. A knock down rebuild gives you complete freedom to design a home that's perfectly suited to your family and lifestyle. It's also more cost-effective than performing major renovations that include structural changes or extensions.
Build Your Dream Lifestyle with a Knock Down Rebuild from McCarthy Homes!
Investing in a knock down rebuild project is a great way to turn an existing block of land into the perfect property. If your family, lifestyle or needs are changing, McCarthy Homes can turn your current house into the home you've been dreaming of!
McCarthy Homes is a custom home builder working throughout Brisbane, the Sunshine Coast and Gold Coast. We specialise in crafting homes that are uniquely yours, complete with high-end features that complement your ideal lifestyle. Our knock down rebuild service includes everything you need to transform your existing property. If you're ready to get started then you can browse our home designs online, or start a conversation about your knock down rebuild project today!