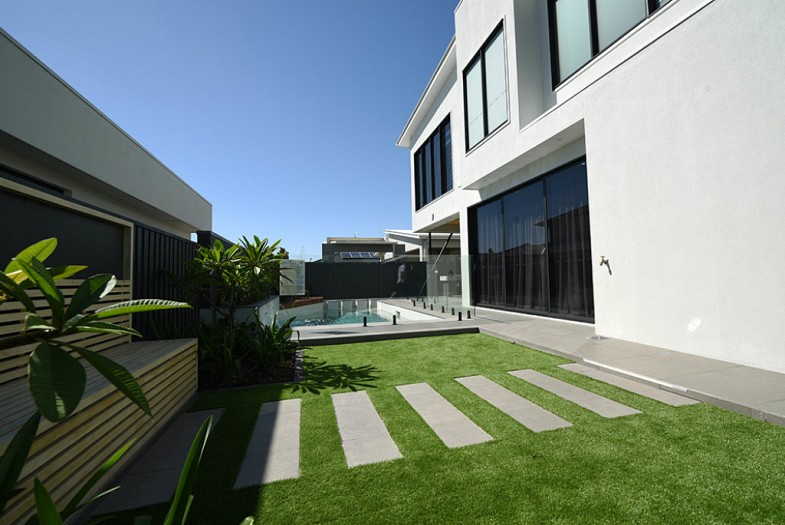 With a little bit of extra effort, your backyard can be an additional living space. It can be an area that you and your family use and enjoy for several activities, from playing to relaxing and of course drinking and dining. Use these tips to maximise the living space in your backyard.
 Harness the Power of Light
It's incredible how much a bit of outdoor lighting can transform a space. Lighting allows you to direct focus to specific areas of your backyard while on the other hand, obscuring others. This is the easiest way to highlight your backyards strong points, like the pool or decking, while hiding poorer aspects, like the garden bed you can't be bothered weeding. Filling your backyard with light also extends the time where you can use your garden. There's no point in decorating your yard if it can't be used after the sun goes down. Turn your backyard into a 24-hour space of usage.
Use Paths
The mistake most people make with their backyard is failing to create points of contrasts and division. Paths are the best way to do this as they perform the dual purpose of giving everyone easy-access through your backyard while allowing you to make the divisions that are so important in creating a visually exciting area. The best material to use for anyone wanting a durable and low-maintenance option is concrete, and you can make it look exactly like brick, tile or natural stone without paying for these materials.
Running Out of Space?
Homes are getting smaller, which means backyards are also getting smaller. Not many of us will have enough room to have huge garden beds, so why not use the walls of your home as spaces for vegetation. Vertical gardens and green walls are becoming a mainstay in backyards, particularly in urban areas. By incorporating this form of gardening in your yard, you will add visual interest to bare walls, while also providing better insulation to your home so you can cut energy costs.
Don't Forget a Deck
No matter how big your backyard is, a timber deck is the best way to give you a whole new living space. A deck performs two purposes. Firstly, it gives you a space for dining, drinking and relaxing, and secondly, it gives your yard a focal point that you can design around. Decks are also a sure-fire way to add value to your property because nothing sells like a beautiful hardwood deck. This is just a sample of what you can do with your backyard. The elements you include aren't as important as your commitment to invest in this critical part of your property. Whether it's a long-term family home or a short-term money-spinner, you sell your property short by ignoring the backyard.