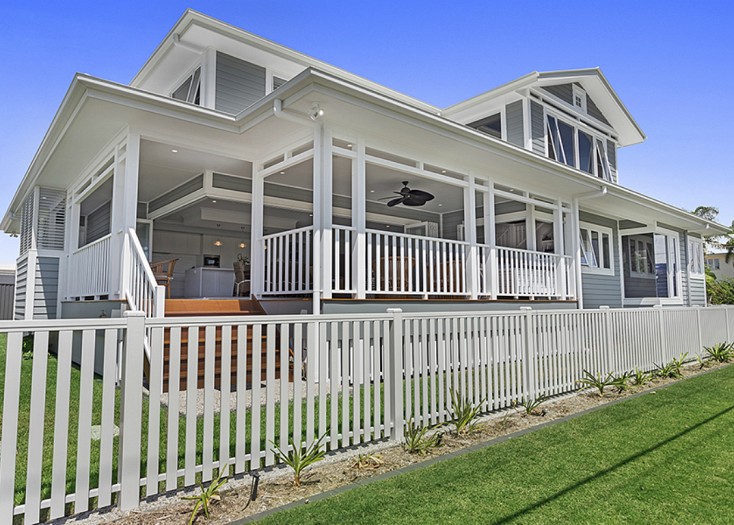 The Hampton House by McCarthy Homes represents the epitome of elegant custom design. Combining a traditional American Hamptons look and feel, with modern sophistication, the home was specifically customised to suit the coastal position and the accessibility needs of its owners, Wayne and Lisa Patterson.
With Wayne and Lisa seeking a low maintenance design, the McCarthy Homes team selected a more hard wearing option than traditional timber. Working with Sycon Linea boards, they were able to deliver an alternative with the same authentic charm, minus the flaking, swelling and shrinking, and with the added bonus of moisture resistance.
The striking four bedroom house was further customised to incorporate the changing needs of Wayne, who is living with Motor Neurone Disease. With his comfort in mind, the head designers at McCarthy Homes ensured hallways and doors were widened, and a ramp provided internal access from the garage.
In addition, the bathrooms were designed for easy access to showers, and plenty of seating areas were conveniently integrated throughout the home, providing little nooks to take in the picturesque ocean views. Forming the social hub of the home, the spacious open plan living area is also host to a built in day bed, offering Wayne a relaxing space to enjoy the ocean breezes.
Homeowner Lisa said the custom created plans reflected exactly what she had in mind. "After catching up with the McCarthy Homes team to run through the plans, it was as if I had drawn them up myself! They had not only presented plans of my dream home, but a home we had decided would become our forever home. They nailed it first go!"
Nicholas O'Sullivan, Director of McCarthy Homes, said, "The team absolutely loved designing and building this home. We didn't just customise it to suit our client's wants, but their needs as well. They've ended up with a truly beautiful home, suited to the Queensland coastal climate, and it's a home that people constantly comment on. We're very proud."
"We are so in love with our Hamptons Home. We told the McCarthy Homes team that they didn't build us a house, they built us our dream home, our forever home," says Lisa.