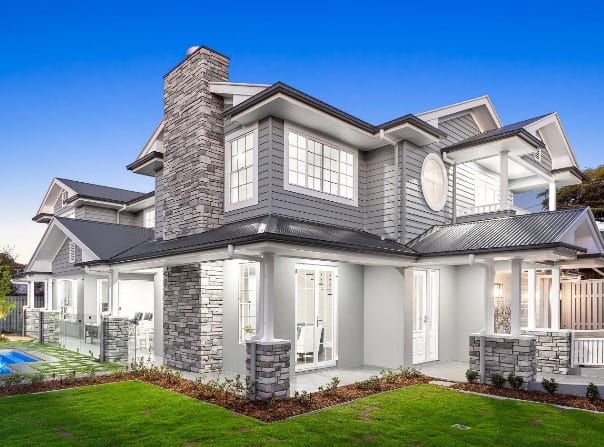 Building a new home comes with hundreds of decisions. One of the most important is deciding whether you want to build a one storey or a two storey house. Choosing between one and two storey floorplans can have a huge impact on how the home looks and how well it suits your family's lifestyle. That means it's important to balance your needs against your budget, the land you've chosen and the design aesthetic you want to achieve. To help get you started, we've got a few important things to think about when choosing between building a one storey or two storey home whether you're looking at a knock down rebuild or a custom home project. 
Block Size and Location
Buying property is all about location, so most people go looking for a block of land that's in just the right spot. You want good access to your work, the kids' schools and the amenities around you. Finding a block of land that has everything you need can be a fun challenge, but don't forget to spare a thought for the type of home you want to build. This is particularly important if you are looking at building a two story hamptons style house.
The footprint of the home is usually the biggest factor here. A single storey and a two storey floorplan with the same amount of living area can take up very different amounts of space on your block. If you're building on acreage or a large plot, a sprawling single storey home might not be a problem. You can fit a large house on the land and still have room for a garden where the kids can play. On the other hand, if you're buying in a newer development or an inner suburb, chances are you'll need to consider building upwards to get the same amount of living space.
Maximising Your Property
The coast and countryside around Brisbane offer some of Australia's best views. If your ideal block of land is one that overlooks your favourite part of the country, it's worth building a home that lets you take full advantage of the property. The extra height on double storey homes allows your designer to craft a property that delivers the views you're after.
But you don't need a great view to make the best use of your land. Considering the block's aspect will allow you to create a home that captures coastal breezes, cools passively and takes advantage of natural light. This can be done both with single and double storey homes – it just depends on your block of land and what you're hoping to achieve with your build.
The Cost of the Build
Planning a custom home build is an exciting prospect, but budget is a major factor for many of us. The biggest difference between single and double storey homes is often in the cost, with double storey homes typically costing slightly more.
But, while a two storey build is likely to be more expensive on paper, multi-storey homes can help you save money on the cost of land. A more compact footprint means you can buy a smaller block without sacrificing the amount of living space you're getting. Choosing to build a two storey home could even make it affordable to live in a more desirable suburb where block sizes are smaller. On the other hand, the money you save building a single storey home could go towards a larger block of land that's more suitable for your family.
Your Family's Needs
Lastly, you need to think about your family's needs. One and two storey homes both have plenty to offer, you just need to choose the right design for your lifestyle.
For instance, families that like to entertain might prefer a lowset house with open-plan living spaces. Alternatively, families with young children might want to design a home that frees up yard space for the kids to play. The only challenge is matching your needs to the right home design. And don't forget to plan ahead while you're doing this. Your needs will change over time, so it's worth considering how you'll use the home in the future while you're planning your current build.
Plan a Stunning Custom Home Build with the Team from McCarthy Homes!
Designing a new home build that offers all the features you want is a major task. You want to get everything just right, but the most important decision you can make is choosing between a one and two storey layout. Each type of home has plenty to offer, so it's up to you to decide what's important to your lifestyle. For any help you need planning your new build McCarthy Homes is happy to help!
We specialise in building new and custom homes in the Brisbane region. Our team of expert designers and builders have been hard at work for decades, so we can offer all the advice and support you need throughout your home building journey. Talk to us today to find out more or visit our display homes today!