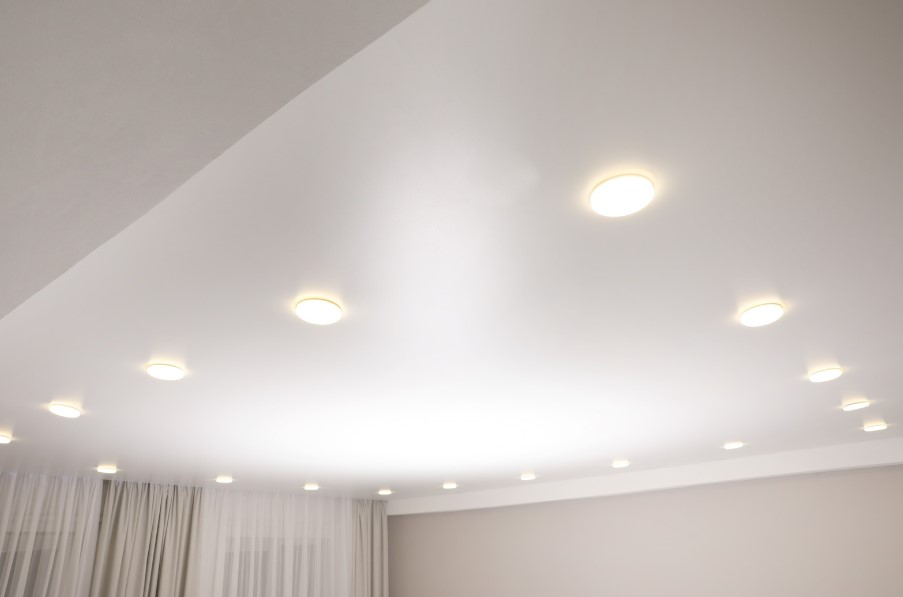 There are lots of things to consider when you're building a new home. 
Ceiling heights play a major role in the look and feel of a property. Lower ceilings create intimacy and comfort that's perfect for bedrooms, while higher ceilings increase volume and provide a sense of grandeur that's hard to beat.
Australia's National Construction Code sets out a variety of minimum ceiling heights for residential construction.
What is the Standard Ceiling Height in Australia?
The standard ceiling height in Australia is 2.4 metres for all habitable rooms within a home.
Service rooms and other non-habitable spaces have a minimum ceiling height of 2.1 metres. Habitable rooms include bedrooms, living spaces, home theatres, kitchens, dining rooms and home offices.
Service areas and non-habitable rooms include bathrooms, laundries, pantries, hallways, walk-in robes and other spaces that aren't occupied for extended periods of time.
You can read more about minimum ceiling heights in the National Construction Code.
Upgrading to High Ceilings
While the ceilings in your home only need to be 2.4m, higher ceilings are one of the most popular upgrades in the building industry.
High ceilings can make a huge difference to how comfortable and liveable your home is.
Many builders offer upgrades to 2.6, 2.7 or 3 metre ceilings. This minor change can significantly increase the volume of a room.
That's great if you want to make a statement, but it's also the perfect design centrepiece for large rooms such as living spaces.
The Benefits of High Ceilings
The height of your ceiling can make a big difference to how your home looks and feels.
Standard ceilings are a great starting point for most spaces.
They offer plenty of height for standard furniture, fittings, lighting and design elements.
But, if you want your home to make an impact, upgrading to high ceilings is the way to go.
Opting for high ceilings comes with a few major benefits:
Make your home feel more spacious.

Having extra ceiling height can go a long way to making rooms feel more spacious. Creating extra visual space is a great way to make the most of small rooms, or to make large spaces feel even grander.

Improved natural lighting.

Higher ceilings means more room for windows and more surface area on your walls. These two factors work together to improve natural light in a room, which can reduce the need for artificial lighting.

Improved ventilation.

We all know that hot air rises. When you're heating and cooling your home, extra ceiling height can make a big difference to airflow through your spaces.

Sense of luxury.

High ceilings provide a real sense of grandeur and luxury that's hard to replicate any other way.

Increase the property value.

Even if you don't intend to sell your home any time soon, high ceilings are always popular with buyers. An upgrade to 2.6 or 2.7m ceilings can significantly increase the value of your property.
Different Types of High Ceilings
High ceilings are a popular feature because they're a blank canvas for any design you have in mind!
While most ceilings are flat and simple, the sky's the limit when it comes to building your own home.
High ceilings give you plenty of flexibility to play with shape and volume, so your builder may offer designs such as:
Flat ceilings are popular for a reason. They're simple to install, compatible with all design aesthetics, and they don't require any special lighting schemes. This type of high ceiling works well for bedrooms and main living areas, although it makes less of an impact than other ceiling types.
A raked ceiling (sometimes called a cathedral ceiling) is sloped to follow the angle of the beams and trusses. Of all the high ceiling designs, raked ceilings make the biggest impact. They're especially popular in core living areas where the additional volume allows for more creativity in lighting and furniture design.
Coffered ceilings have recessed sections that bring depth and texture to a space. Coffered ceilings are popular in intimate spaces (such as bedrooms) because they allow for higher ceilings without sacrificing the cosy feeling of standard ceiling heights.
Large rooms with high ceilings pose a design challenge. The extra volume can run the risk of looking bare. This issue can be addressed with windows, lighting and features such as wallpaper, but exposed beams are a great alternative.
Exposed beam ceilings turn your ceiling beams into a feature. In modern builds, it's more common for the exposed beams to be a decorative feature, rather than a structural element. Despite this, exposed beams add a fantastic sense of texture, depth and colour to rooms with high ceilings.
High ceilings are common in single-storey homes, but they're also suited to two-storey builds. Full height voids are often installed in entryways and stairwells where the overhead space extends up through the entire home.
Voids are a great way to invite light into the lower level, and the extra volume makes a real impact on anyone who visits your home.
Design a Home that Stands Out with McCarthy Homes!
Building a new home is an exciting journey. There are lots of things you can do to make the space your own, but high ceilings are one of the most popular options.
At McCarthy Homes, we offer complete freedom to select a ceiling design that suits your lifestyle, and we're happy to incorporate any custom build elements you'd like!
McCarthy Homes is a Brisbane and QLD home builder specialising in crafting homes that are as unique as you.
Building your dream starts with a conversation! Get in touch with us today if you're ready to explore the McCarthy Homes experience.