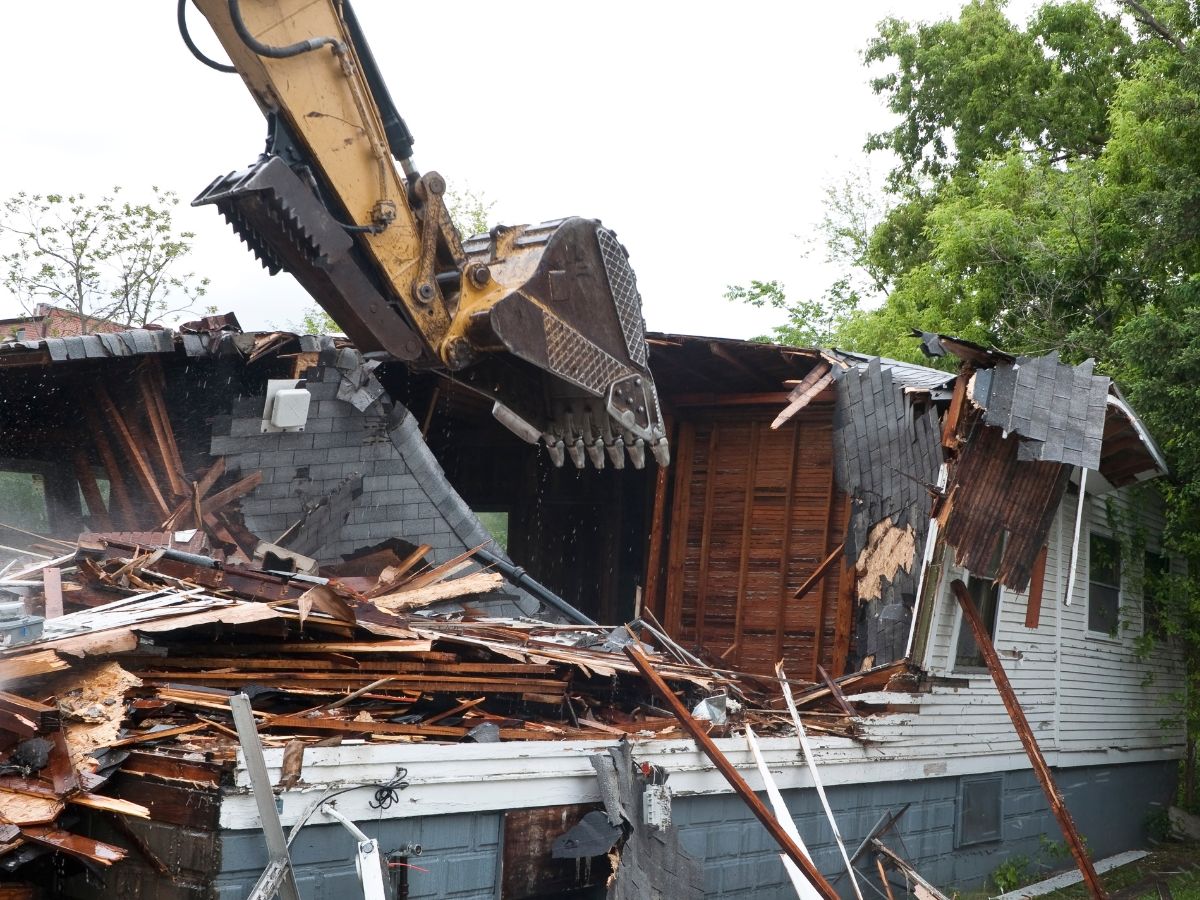 Knocking down an existing house and rebuilding a new home is a great option for many homebuyers. If you already own a house, a knock down rebuild allows you to enjoy a brand new home without having to move an inch. That means the kids can stay in their schools and you can stay near your family, friends and work.
There's even better news – a knock down rebuild project can save you tens of thousands of dollars, and the process is very similar to a standard new home construction. In this article we'll go over the knock down rebuild process and explain the extra steps involved with your project.
1. Pre-Construction Planning
Just like any other new home construction, your knock down rebuild begins with some serious planning. During the pre-construction planning phase, you will meet with your builder to discuss your design concepts and assess your existing property. If your property is suitable for a knock down rebuild, the planning phase will move forward, and you'll have a chance to talk about design requirements, floorplans, finishes, fittings and other inclusions.
Note that not every property is suitable for a knock down rebuild project. For instance, if your house is subject to heritage listing, you may not be able to demolish the property. Talk to your builder to find out whether your existing house is suitable for a knock down rebuild.
2. Obtain Demolition Approval
Demolition projects are subject to strict council requirements. Since demolition can have an impact on the surrounding area, you will need to check with your local council to find out whether you can demolish a property. Demolition approvals are subject to:
Zoning laws
Heritage listing
Overlays (such as flood zones)
Neighbourhood planning
Not all demolition projects require building approval. Each local council has its own requirements for granting permits. You can read more about Brisbane City Council's requirements on their website, but you should check with your local council for more accurate information.
3. Organise the Demolition
You will typically be required to organise demolition with an independent contractor. Demolition is heavily regulated and highly skilled, so you'll need to work with a reputable contractor.
The demolition process is relatively straightforward. Your contractor will review your building approval and site plans, and then get to work on removing the existing house. This includes demolishing the slab and removing underground utilities, such as water, power and internet.
Demolition should only be carried out by a contractor that holds a valid Demolition Work Licence. Talk to your builder if you need help selecting a reliable demolition company. Your builder may be able to refer you to a contractor they have worked with previously.

4. Laying Foundations
With demolition complete and the waste removed from the site, your builder can start on the rebuild! During the foundation stage your builder will:
Clear unwanted vegetation and other features
Perform earthworks (such as flattening the site)
Construct retaining walls and terraces
Lay underground utilities (such as water, power, internet and gas)
Mark out the location of the slab and/or foundation posts
Once that's all complete, the concrete slab will be poured and allowed to cure ahead of further construction.
5. Framing the Home
Framing is where your house really starts to come together! The frames are the skeleton of your home. Your builder will begin by marking out the location of each frame, window, door and roof truss. Those markings are then translated onto the framing timbers or steel studs, and the frames can be assembled one by one.
Depending on the design of your home, framing may be completed onsite, or your builder may prefabricate components offsite. Prefabricated frames can shorten the total construction time, but they aren't suitable for all types of builds.
6. Enclosing the Home
Enclosing your home marks the halfway point of the build. During the enclosing phase, your new home is fitted with its roofing, insulation, external cladding, windows, doors and gutters. The aim here is to make the home secure and weatherproof before the interior fit out takes place.
At this stage your trades will also rough-in electrical, plumbing and HVAC services while they have access to wall and ceiling cavities.
7. Completing Fixings
Once your home is secure, your trades can move onto the interior and complete the fixing stage. During fixing, your builder completes major details like wall and ceiling cladding, and they'll install features like skirting boards, cornices, doors and cabinetry. They'll also complete the installation of the electrical, plumbing and HVAC services that were roughed-in earlier.
Lots of work goes into completing a home and adding finishing touches such as stairs, appliances, kitchen equipment and custom features. The fixing stage is often one of the longest phases of your knock down rebuild.
8. Project Handover
Your knock down rebuild is almost complete! At this point your builder is effectively done with their work, and it's your turn to examine the property and make sure it meets your expectations.
At handover, you'll meet with your site supervisor to inspect the completed build. During your inspection you should look for faults or anything that the builder has missed. Inspect your walls and ceilings for paint consistency, test appliances, check cabinetry and test whether fittings like taps and lights work as intended.
Your builder is required to fix any little issues before handing over the keys, so don't be afraid to go over the property with a fine-toothed comb.

Talk to McCarthy Homes About Your Knock Down Rebuild Project!
A knock down rebuild project is a great way to build your dream home in a location you already love. Not only does a rebuild give you more freedom than renovation, it can also save on stamp duty, moving costs and agents fees. If you've outgrown your current house and want to build something that suits your lifestyle, McCarthy Home would love to hear from you!
McCarthy Homes is a custom home builder that works across Brisbane, the Gold Coast and Sunshine Coast. We offer knock down rebuild services that allow you to turn an existing property into a home you'll cherish for decades to come. You can browse our home designs to get started, or talk to us to find out more about our custom built homes!