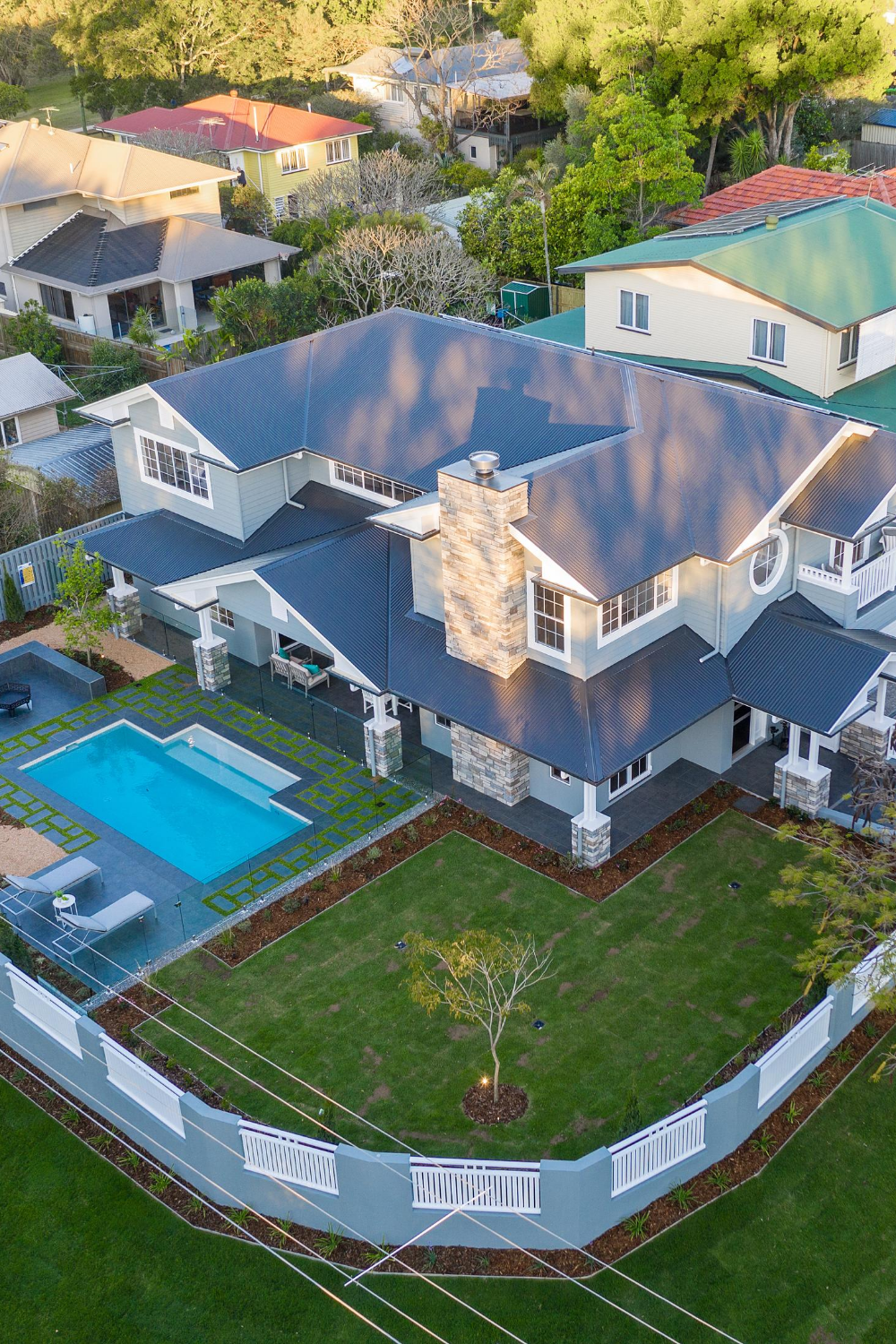 What happens if you love where you live, but your family are growing out of the house? You belong in the neighbourhood, but you need more space?
Over the last ten years, homeowners are trusting McCarthy homes to knock down, design and rebuild their new homes from start to finish. It's what we are known for and it's why we have our best tips for you to consider before taking the magnificent leap to your dream space!
1) Out with the old, in with the new.
Knocking down a house needs careful planning. At McCarthy Homes, we have a rigorous step through process that keeps you informed every step of the way. We do it with you – from the first land checks, taking down your existing home to landscaping and handing over your new keys. All you need to do is come along with ideas, inspiration and be open to new possibilities.
2) Love the land you live on.
The first aspect we need to check is your land and whether it is suitable for a knockdown and rebuild? You will need planning information through your local council that outlines zoning and restrictions. We will guide you through this process.
3) Sunny side up for your home position.
The position of your new home is an exciting part of the design stage. When you wake up in the morning, do you want to be sunny side facing or enjoy sundown in your alfresco dining, poolside? Our designers create a land map to show you the options for an optimum position.
4) Get ready, move out, no stress.
Preparing to move out needs a timeline that works with your work and family. Relocating while we knock-down and build means finding a temporary home with minimum disruption. Our team are here to support the process that works with your family, from start to finish.
5) Dream big and design with us.
Building your dream home is usually a once-in-a-lifetime opportunity. It can feel overwhelming at the start. It begins with land mapping and building, and moves into the detail of tiles and décor. We like to see this as the fun part where you get to recreate a new space that will grow with you and your family.
We have many design elements for you to browse. We have designers that can show you how colours flow through your space, how granite, quartz and sandstone bench tops change the feel of a kitchen and how natural light determines how you furnish your master bedroom.
6) A pool with a view.
At McCarthy Homes we design pools that are an extension of your indoor living. Many families ask for pools to be visible from the open plan kitchen or your entertainment area.
We design swimming pools to flow seamlessly through the exterior land available and to the size you want. The safety fence and decking are part of the aspects that we can recommend with confidence.
7) Choose your style.
Our Hamptons homes and triple gabled Queenslanders are our most popular designs. With more than 50 design series, you can choose a style to suit your family.
Would you like a stunning Federation style kitchen featuring premium European kitchen appliances, butler's pantry and cellar designed to bring out the inner chef in every family? We integrate with open dining and spacious entertainment area's both inside and out, designing alfresco dining areas for celebrations to create great family memories.
Our homes feature bedrooms with beautifully designed ensuite's, walk-in robes, study nook, leisure areas and open living spaces.There are many designs to choose from. Every design has a growing, dynamic family in mind.
8) Landscape for leisure and lazy days.
With busy lifestyles more of our homeowners are choosing styles that create a peaceful and tranquil ambience.
From your site measure to concept, we create plans and begin drawing until you can visualise your space coming to life.
9) Saving makes sense.
Demolishing and rebuilding capitalizes on your land value without paying stamp duty and agency fee's of a sale.  We know there is less risk involved building a home, than a renovation or an extension.
10) The final countdown.
Your personal Client Service Manager will be with you through the knock down and rebuild process. You are one step closer to living your dream.
An on-site Construction Supervisor will keep you informed and consult with you through from start to finish:
Commencement
Base
Frame
Enclosed
Fixing
Handover
Maintenance
We can't wait for you to see the magic happen!
At McCarthy Homes,  we are the experts in knockdown and rebuild from Ballina to Noosa. Dream big and let us build for you!
Ready to get started? Contact us today!