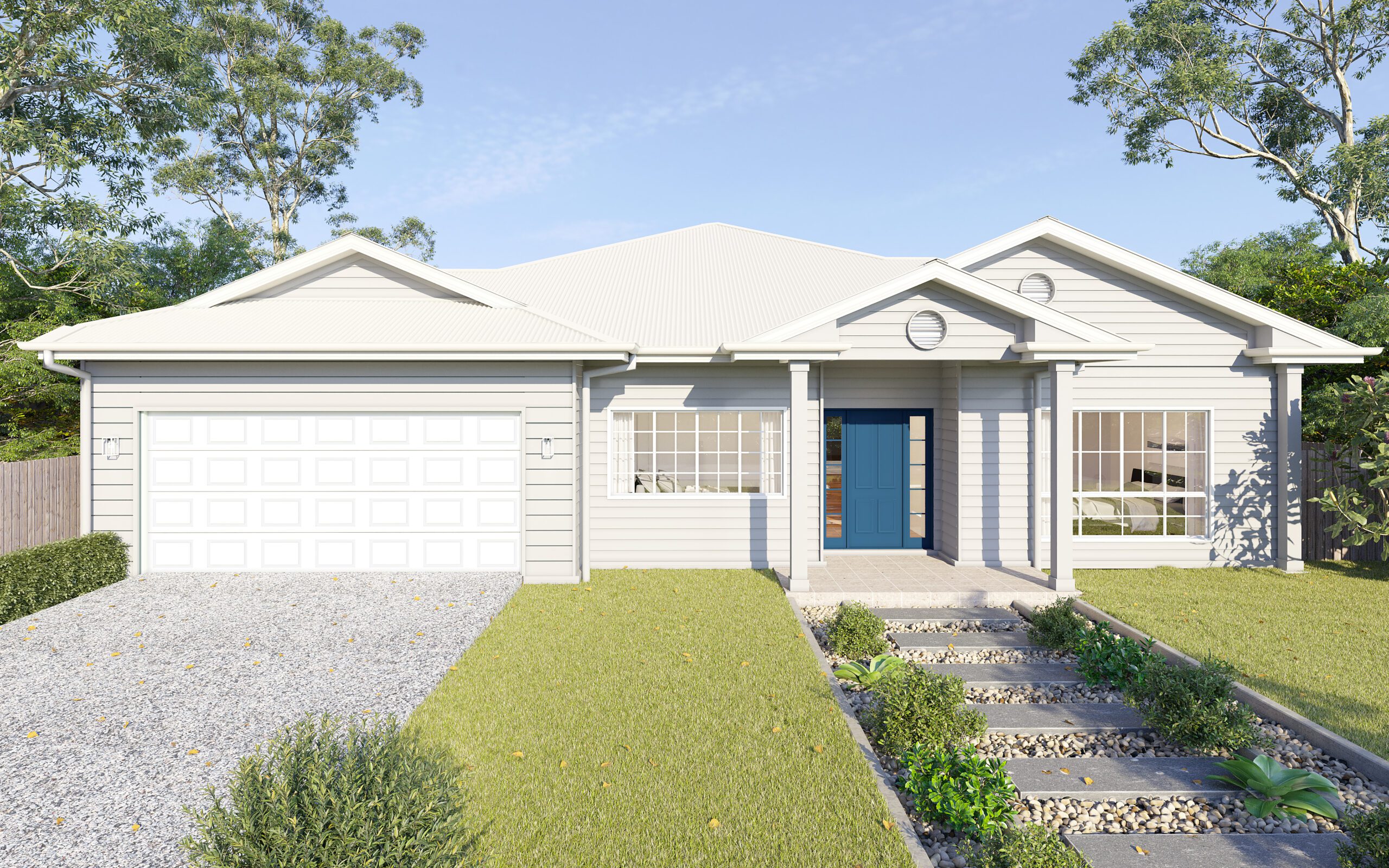 You don't need to settle for less when you can have more! Our 5 bedroom home designs are perfect if you have a big family and even bigger dreams for your new home. In this article we'll go through our best 5 bedroom home designs so you can pick your ideal layout!
Our architectural range of modern contemporary and Hampton style 5 bedroom home designs are testament that with a little creativity, anything is possible. With 2 story house designs or a layout all on the one level, you'll have plenty of space for your dream home even on a narrow or small block.
We currently offer four options for 5 bedroom home designs, they are: Vogue, Whitehaven, Polaris and Carrington. Alternatively we can build custom 5 bedroom homes for clients with a singular vision of what they are looking for.
Each of our 5 bedroom home designs also come with upgradable inclusions for you to experience a new level of luxury. Whether you're looking for a Hampton style or to customise your materials we can include these features in your new home.
Vogue
The Vogue is a 5 bedroom home design that caters to the needs of the whole family. With a deluxe master bedroom that some only dream of, and four living areas to choose from, it's perfect for a growing family.
MAKE AN ENQUIRY
Whitehaven
Perfectly designed to suit narrow lot blocks, the Whitehaven boasts an open plan kitchen, family & dining area with a separate upstairs leisure room. The well-appointed kitchen and butler's pantry will make entertaining on the spacious adjoining alfresco a breeze.
MAKE AN ENQUIRY
Polaris
This stunning 5 bedroom home design comes with a range of upgradable inclusions to transform this family home into a holiday retreat. The photo used here shows the Polaris with a Hamptons façade; giving you all the style and class of traditional Hamptons homes without the expensive Hamptons price tag.
The Polaris is popular for those who want a one-storey home design for their family. Its spacious floor plan is light-filled and airy with plenty of room to live and relax in. The fifth bedroom in this design is optional, switching between a study or a bedroom as you need.
The Polaris represents modern family living at its best. Meticulously designed, the open plan living area forms the social hub of the home, while secondary bedrooms are accessed via a separate hallway, forming a quiet sleep zone.
Key Features
Five sizeable bedrooms
Master suite with ensuite and walk-in robe
Open plan living, family, and kitchen area
Walk-in pantry
An expansive alfresco for entertaining
Double garage
MAKE AN ENQUIRY
Carrington
The Carrington is our most popular 5 bedroom home design. Perfect for large families or those wanting the extra space, this stylish and open home offers a range of luxuries built within a clever design to utilise the land available, even on a small block.
The Carrington design offers open plan living, a separate study, lounge, and leisure area, giving a growing family plenty of room to relax. Four sizeable bedrooms are located on the upper level, with ensuite to master, bathroom and powder room to ground floor.
Key Features
Multiple spacious bedrooms
Master suite with double vanity ensuite and walk-in robe
Ensuite, bathroom and a powder room on the lower level
Three living areas – leisure, lounge and family
Open plan living family and kitchen area
Walk-in pantry and linen
An expansive alfresco for entertaining
Double garage
MAKE AN ENQUIRY