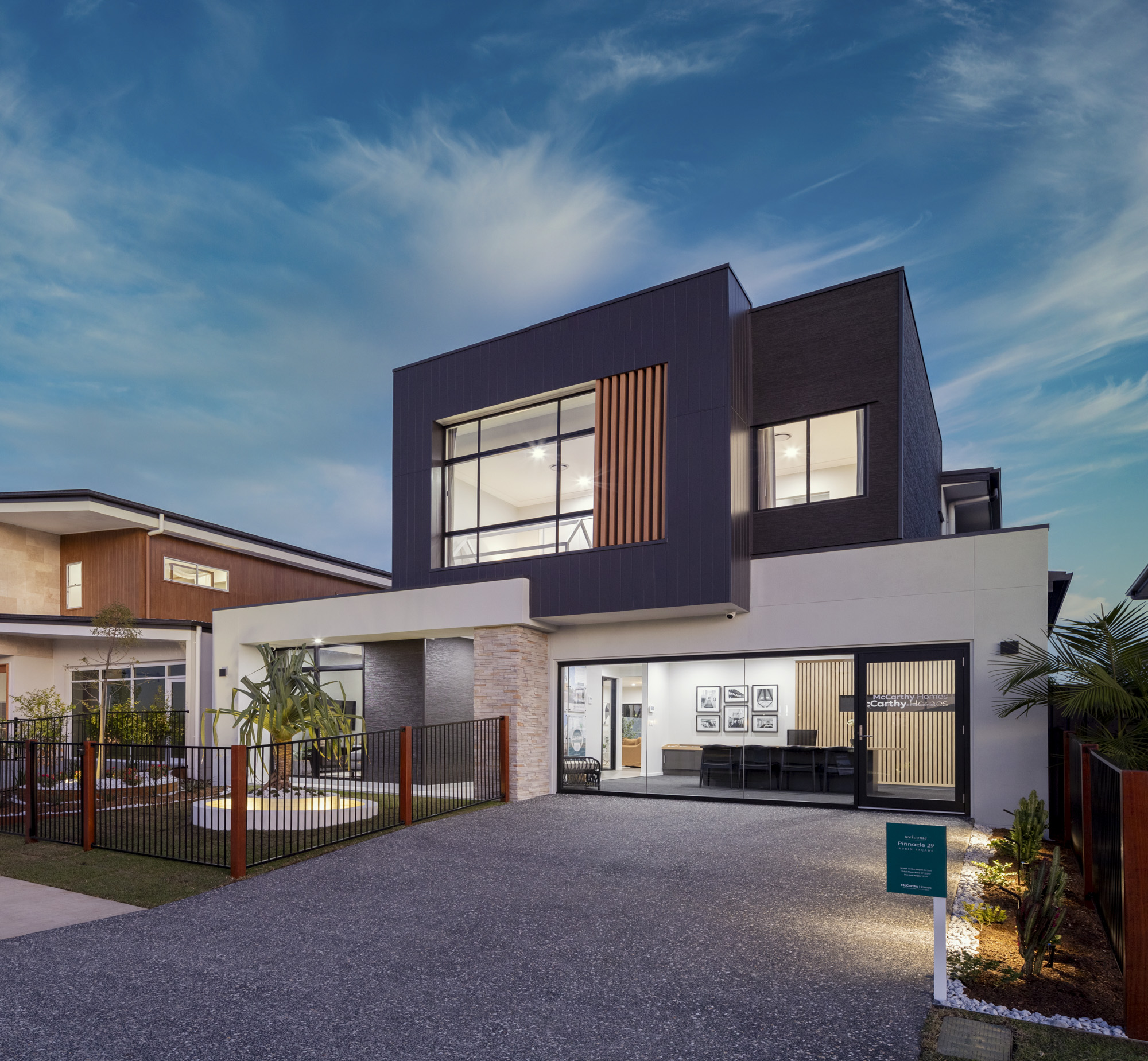 At some point in your homeowner journey you've no doubt walked into a display home and been completely blown away. The design, the specs, the location… it's everything you want from a home.
A voice in your head whispers "If only this could be yours."
Well, with McCarthy Homes, it can. Our display homes are available for purchase, and there are a bunch of reasons why you should consider one for your next property buy.
Here are a few of the benefits of buying a display home.
Leaseback options
When you buy a McCarthy display home, there's no hunting around looking for the right tenant. We already have the perfect tenant lined up for you – us! We leaseback the home at an attractive predetermined rate, so you know exactly what your income from the property will be for the entirety of the lease. It's regarded as one of the highest yielding investments you can get.
As well as guaranteed income, this saves you money on property management, inspection and letting fees. You can still claim on depreciation; your rent will always be paid and we're not going to throw any wild parties. Now that sounds like a good investment.
When the leaseback finishes, you get the keys to your luxury turn-key home, ready to move into or rent out.
Location
Your display home will often be within a display village, an area deemed to be more accessible, convenient and generally more desirable than other parts of the estate.  This already places your new display home at an advantage.
The display village will also consist of other top-of-the-range homes designed to show off the developers' skills. You're going to be surrounded by quality properties, and the streetscape of the will be established and maintained to a striking and appealing level.
Sometimes a display home is within a growing suburb, not an estate. Rest assured we have done our research and selected a sought-after street that's convenient and easily accessed.
Fittings and inclusions
A McCarthy display home is designed to impress, showcasing our best in design and our premium fixtures, fittings and features. It's our chance to put our best foot forward and show buyers the high level of quality they can expect from us.
When you buy a display home from us, you're getting the best available features at a reasonable price. We're talking cutting-edge design where every aspect of the build has been considered, style elements that take your breath away, trend-setting fittings and chic fixtures.
When our lease ends, you get first option to purchase the display furniture we used, meaning you get a fully furnished home with premium art and furnishings.
Landscaping
A lot of new builds don't have landscaping included in the cost. With a display home from McCarthy Homes, you're going to get the best landscaping we can provide. Our architect-designed gardens and exceptional outdoor living spaces bring another level of liveability to a property. It's all included when you purchase one of our display homes.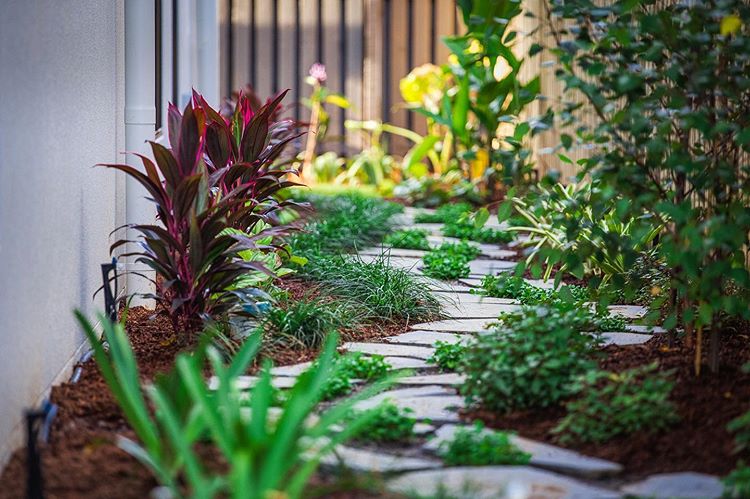 Maintenance
When you've got an investment property that you're renting out, it's a given that you pay for the maintenance. Problem with the plumbing? Electrics gone haywire? It comes out your pocket.
This isn't the case when we lease the display home back from you. Maintenance is on us, because we want to keep the property in the best possible shape. So when a problem arises, we take care of it.
This doesn't just extend to problems. We get cleaners in regularly to keep the property looking spick and span, and a landscape maintenance team keeps the gardens in top order.
The heavy lifting is done
Buying a new home or an investment property should be a stress-free process. It doesn't get more seamless than when you buy a display home from McCarthy Homes. Forget about researching the latest in design and decorating trends. Forget about trying to figure out what the latest and best home features are.
We've done it all for you.
The floorplan is done, the inclusions are decided upon, the colour scheme is set. You simply walk in, fall in love with the home and we'll get the ball rolling from there.
Current Opportunities 
Visit our Display Homes page to view our Display Homes that are currently for Sale. Discover each home today by taking a virtual tour, downloading the brochure, viewing the floor plan or reviewing the image galleries.
Explore Metropolitan
Located at 153 Splendour St, Rochedale 4123 QLD.
The Metropolitan is suited to narrow lots, and is ideal for those who love to entertain with a large open plan living area and deluxe alfresco. Four bedrooms ensure there is plenty of room for a growing family.
Discover Pinnacle.
Located at 4 Cardinal Crescent Newport 4020.
The Pinnacle captures the essence of exceptional contemporary design, expressed through the simplicity of strong, clean lines executed with precision.
Its purpose driven layout create ideal environments for modern living with seamless indoor to outdoor entertaining, multiple living zones, advantageous work spaces and relaxing sanctuaries – bathed in abundant natural light and fresh air.
The design has style and substance; combining eye-catching geometry and articulation in its facade with an extensive array of projections and an attractive arrangement of render and glazing.
The layout includes; a sun drenched open plan living area, glazed middle courtyard area, double garage, rear main bedroom suite adjourning a separate first floor Leisure area.
As with all exceptional contemporary designs, the Pinnacle's lines are sleek allowing its integrity to shine through in unison with its functionality and purpose.
Discover Brookhaven
Located at 151 Splendour St, Rochedale, QLD 4123.
The Brookhaven is classic luxury and style, sure to encapsulate your imagination and desire like no other.  With a blend of style and functionality, the open plan living encompasses a mid-positioned void, leading to a stunning alfresco and open area.  A widened staircase leads to a first floor vista of space and open views, all assisted by generous glazing and natural light.
Features of this premium home include; Galley style kitchen with Butler's pantry, spacious open plan dining and family room, Guest bedroom with separate Ensuite, full sized master suite with separate robe-room, individual study area and convertible linen / wine cellar.
The Brookhaven showcases McCarthy Home's commitment to creating the best quality craftsmanship of enduring luxury family homes tailored for individual families.
Have you got any questions about how purchasing a display home from McCarthy Homes? Contact us today and we'll gladly answer them for you.